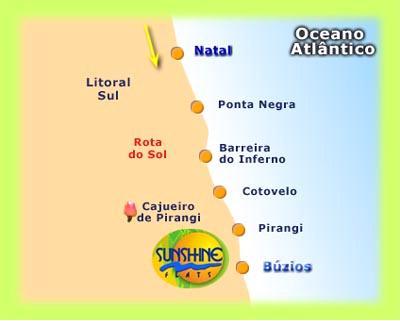 Welcome to Buzios!
[The unique 'seashell' of Brazil]
In wonderful Buzios/Natal, on a paradise beach with fantastic sanddunes to catch the sunset and the eternal ocean to give birth to each sunrise, you may stay at Sunshineflat or Rivera de Buzios.
There is a nice reef in one end and a magic bay with dolphins on the other, in between, 4km of wide lovely beach and adventure waves with a desire to embrace you in harmony.
Buzios, the most lovely beach
To get to Buzios is easy! It takes less than 25 minutes with the frequent buses from Natal/Ponta Negra. From the International Airport it is about half an hour, through a natural reserve with the worlds largest cashew tree among other things. Buzios attraction rests in the peaceful connection to fantastic nature, it is distant from the buzy city and tourism hazzle yet close enough to be very convenient and relaxing.
Please, contact us at: jonas.karlsson@xpony.com or
magnus_holmqvist@hotmail.com
Visit as single, couple, with family or friends (up to 8),
Please, contact us to get an offer!
Sunshine Flat suits 2 persons (+2 in bedsofa, 1.5 room) and/or Condomino de Buzios 4 persons (3 rooms). Enjoy our balcony view, look at more photos but know that Your visit in reality will offer so much more!